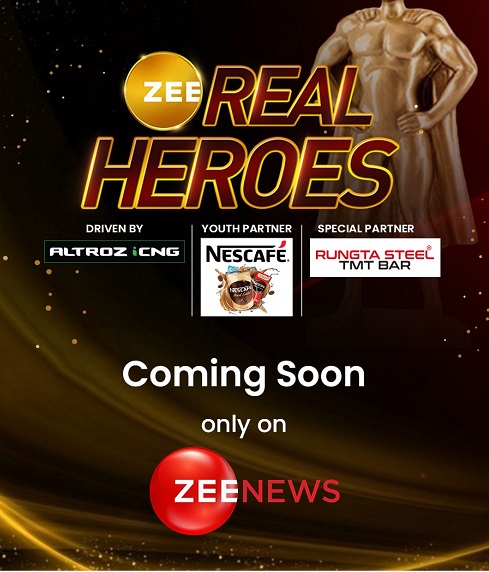 India: Zee News, one of India's leading and most trusted news channels, is all set to host a first-of-its-kind inaugural edition of Zee REAL HEROES on Monday, 22nd May 2023. This public forum aims to appreciate the efforts and achievements of change-makers in India across respective areas of innovation, expertise, sports, health, arts, and emerging businesses.
India is a culturally diverse nation. Amidst the vast diversity, there have been some inspiring role models who have meticulously worked hard toward achieving their goals and meticulously discovered meaningful opportunities in challenging situations. Taking into consideration the exemplary work done by these 'Unsung Heroes', Zee News looks forward to appreciating them for making a big difference to society at large.
The on-ground event of Zee REAL HEROES will be graced by Chief Guests and Keynote speaker Shri. Nitin Gadkari Minister of Road Transport and Highways of India and Shri. Anurag Thakur, Minister of Information & Broadcasting. The Zee REAL HEROES ceremony will also be attended by well-known dignitaries across education, technology, sports, innovation etc.
Highlighting the objectives of Zee REAL HEROES 2023, Mr. Abhay Ojha, CEO, Zee Media Corporation Limited, said, "Visionaries from different corners of India have done exceptionally well in their respective fields, which has further resulted in making this world a better place. ZEE Media firmly believes in appreciating the glorious achievements of the unsung heroes of society. We take great pride and encourage the entire nation to celebrate the achievements of the change-makers."

Mona Jain, Chief Revenue Officer, added, "Individuals with an outstanding leadership quality have been successful in achieving an exemplified exceptional conduct and resilience towards making a difference to the world at large. They truly inspire the society, thus encouraging our team to bring such growth stories to light.We hope to engage many stakeholders through Zee REAL HEROES and explore new horizons for the future. Zee Real Heroes is, in fact, a prestigious symbol of national recognition for the true heroes of our nation."
The co-sponsors of Zee REAL HEROES are Nescafe (Youth Partner), Rungta Steel TMT BAR (Special Partner) and driven by ALTROZ iCNG. Dr.M.G.R. Educational and Research Institute, Agarwal Packers & Movers LTD, LIC, Baidyanath- Asli Ayurved, Wybor and Combo Nation are its Associate Partners.
Zee Media Corporation Ltd, one of India's leading media companies, has a strong presence in the news and regional genres, with 13 news channels in seven different languages, reaching more than 528+ million viewers through its linear and digital properties.