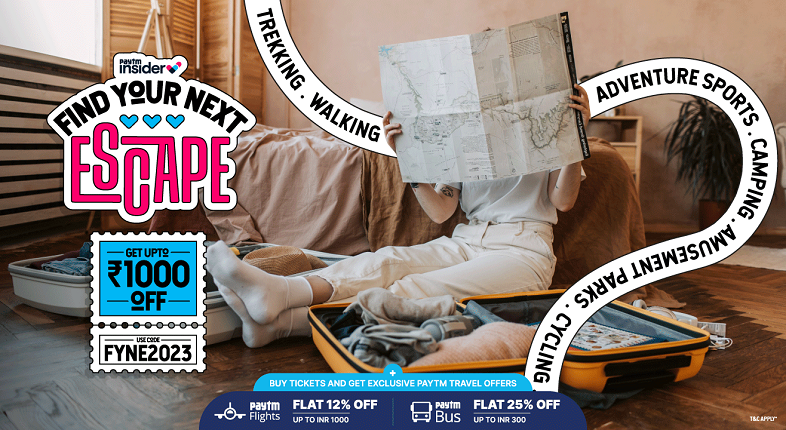 India, 30th May 2023: Paytm Insider, India's leading entertainment platform, has curated a range of exhilarating experiences for families, students and working professionals looking for a break from their hectic daily schedules. From camping and trekking to adventure sports, weekend getaways and day trips, the platform offers users an extensive selection of more than 200 experiences to explore in and around their cities.
Users from the western part of India, can reconnect with nature in the tranquillity of the great outdoors with breathtaking camping experiences at Pawna Lake Camping, Alibag Beach Camping, The Baking Yogi Fest, Bhandardara Lake Fireflies Camping and more. Or, one can get a thrill out of trekking events like Rajmachi Fireflies trek at Lonavala, the Kalsubai night trek, the Kedarnath trek and Kothaligad trek, amongst others. Besides this, Paytm Insider is also offering a selection of summer camps and activities like The Lost World at Navi Mumbai, Kleinetics Fitness summer camp, Robotics summer camp and much more. They can also embrace their inner adventurers at Summer Theme Park at Imagica, The Biggest Summer bash at Water Kingdom Essel World and Bird Park.
Meanwhile, people from Southern India can explore various summer camp activities like the Swimming Summer Camp in Kaggadasapura, the Squash Summer Camp in Indiranagar, and the Badminton Summer Camp in HSR Sector 7, amongst many others. The city also offers a vibrant blend of nature and adventure with activities such as Celebrating World Hug a Tree Day, Ooty backpacking trip, Kudremukha trek, Gokarna Beach trek, and more. Not only that but the platform has also curated a range of scenic hiking trails that wind through lush forests to thrilling mountain expeditions. This includes A Hippie Trek to Gokarna, Tadiandamol Trekking, Skandagiri Sunrise Trek, and many more.
For people from the North, Paytm Insider has curated numerous summer experiences, including The KLAY Sunny Side UP – A Fun Summer Program, Naad Vriksh Summer Camp for Kids, Parent-child and family summer camp, and more. Meanwhile, thrill-seekers can indulge themselves at the Shemford Summer Camp, World of Wonder, Day Out at Cheerfit Aravali Theme Park, Adventure Games like The Hidden Tour, and many other adventure activities. Likewise, the cyclists of the city can get their adrenaline pumping with the Delhi starry night Cycling tour, Explore Old Unseen Delhi and Imperial Delhi on Bicycle. And apart from this, one can also experience guided walks across the city, known for its historical treasures, with Raat ke Afsane, Exploring Havelis of Chandni Chowk, Ghosts of Nawab – Exploring Malcha mahal and Exploring Humayun's Tomb.
Samidh Bhattacharyya, Head Of Marketing, Paytm Insider, said, "Paytm Insider is a cutting-edge platform designed to revolutionise the way people travel, discover and engage within their cities. We are looking forward to providing a diverse range of experiences and encouraging users to step out of their comfort zones and unlock the hidden gems that lie in their own cities, their own neighbourhoods. With an array of options spanning across categories, individuals of all ages and interests can find something that ignites their sense of adventure."
Paytm Insider strives to go above and beyond the ordinary by curating a spectrum of events, collaborations and thematic experiences alongside technological innovations and providing its users with a user-friendly interface and a seamless ticketing experience. It definitely stands out as the leading entertainment platform in the country with its commitment to leaving no stone unturned to ensure its users have access to unforgettable moments and opportunities to explore their passions at their fingertips.