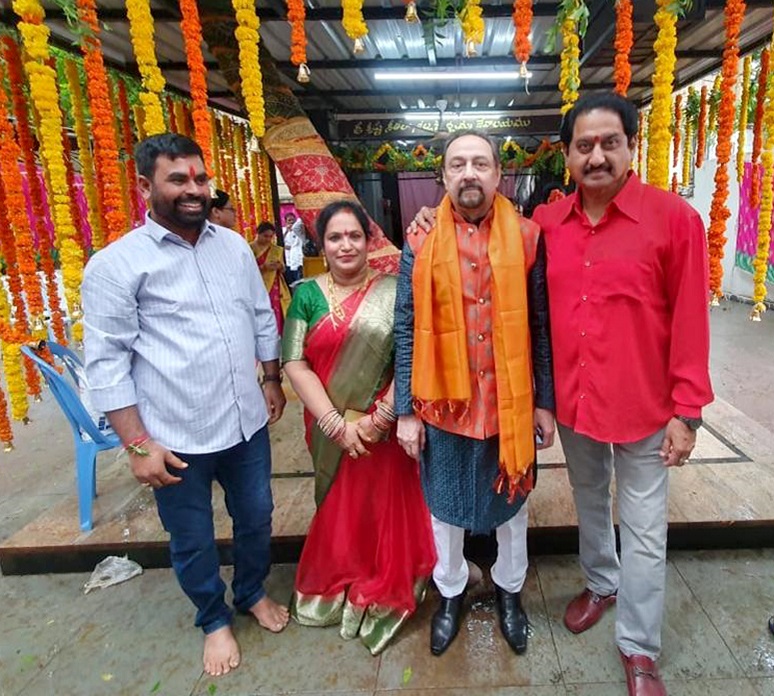 Hyderabad, July 19, 2023…..Nizam 9th of Asaf Jahs Raunaq Yar Khan and Filmstar Suman Talwar attend Bonalu celebrations organised inside the Nizam Institute of Medical Sciences ( NIMS hospital)premises on Tuesday.
Ms Padma, the organiser, who has been organizing this Bonalu pooja at least for the last decade says that they have been honoured by the visit of 9th Nizam Raunaq Yar Khan of the Asaf Jahi Nizams(who donated this hospital to the public (at Rs. 1 for Month as a formality). The Present head of Asaf Jahi family personally attending Pooja and blessing us in taking care of our patients is an honour for us, she said. The Nawab came along with Sri. Suman our large-hearted film star who is a regular at our Pooja.
It is not out of the place to mention here that Nizam's Institute of Medical Sciences (NIMS) is named after its founder – the 7th Nizam of Hyderabad, thus it becomes special seeing his family members visiting the festival a secular message too, to remind of the past brotherhood of communities.
In 1951, The Nizam not only started the construction of Nizam Orthopedic Hospital (now known as Nizam's Institute of Medical Sciences (NIMS)) and gave it to the government on a 99-year lease for a monthly rent of just Rs.1 which is probably due to some legality which constrained him from offering it as a gift to the public.
NIMS was constituted with the object of creating a centre of excellence in Research, Training and Patient care in Super Specialities. Institute has achieved its objectives and achieved distinction in all spheres during the past five years.
Around the same time, he had also donated 14,000 acres (5,700 ha) of land from his personal estate to Vinobha Bhave's Bhoodan movement for redistribution among landless farmers.