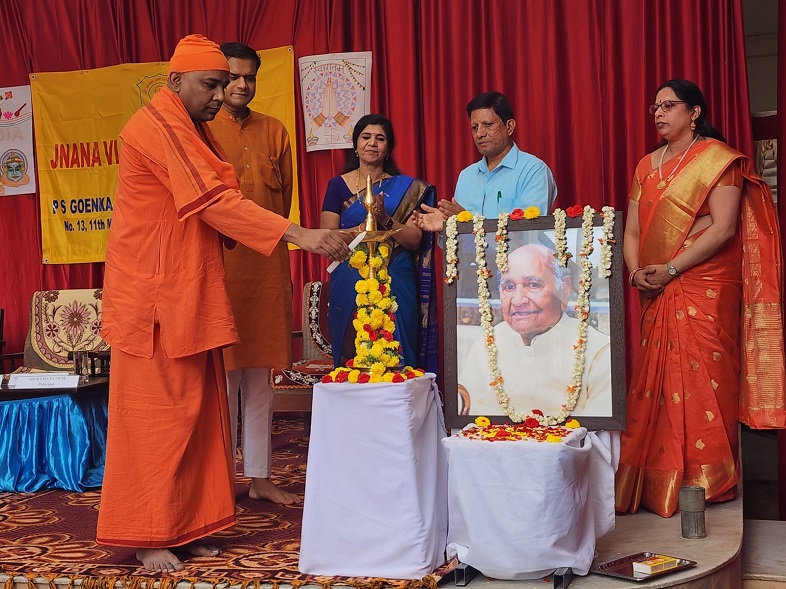 Bangalore, 2nd August 2023 – In a bid to foster camaraderie and encourage students to strive for excellence, Jnana Vijnana Vidyapeetha successfully organized an engaging inter-school competition on Wednesday, 2nd August 2023. Winner of the competition (Shloka Chanting, Dhatri L.S I Prize from from The East West School Bangalore) (Elocution in English Ashwanth A I Prize from Mirambika School for New Age) (Elocution in Kannada Namrata R Shankar I Prize from Acharya Pathasala Public School)
The event witnessed enthusiastic participation from around 20 schools, coming together to showcase their talents in English and Kannada Elocution and the revered Sanskrit Shloka Chanting – "Sharada Bhujangam". Held in different rooms simultaneously, the competitions brought out the best efforts from each participant, inspiring a spirit of healthy competition and personal growth.
The program was graced by esteemed dignitaries – Trustee Shri Siddarth Goenka, Academic Director Smt. Lakshmi Murthy, and Principal Shri. Ramanath M. – who inaugurated the event and motivated the students to give their all. the honorable presence of Swami Girijatmanandaji from Ramakrishnamutt, Bangalore, as the chief guest.
We extend our heartfelt gratitude to all the participants, schools, and our esteemed guests for making this inter-school competition a resounding success.
About: Jnana Vijnana Vidhyapeetha – Your safe neighborhood school in Bangalore. Founded in 2000, Jnana VijnanaVidhyapeetha (JVVP) is nestled in the quiet neighborhood of Padmanabhanagar in South Bangalore. The 1.5-acre campus is designed to provide children with an academic setting that is both functional and aesthetically pleasing. The students take great pride in their school, which is reflected in their desire to learn and succeed. The motivated student body, expert teaching staff, sound philosophy, and state-of-the-art facilities are the reasons why JVVP is a good educational opportunity that parents explore for their children."