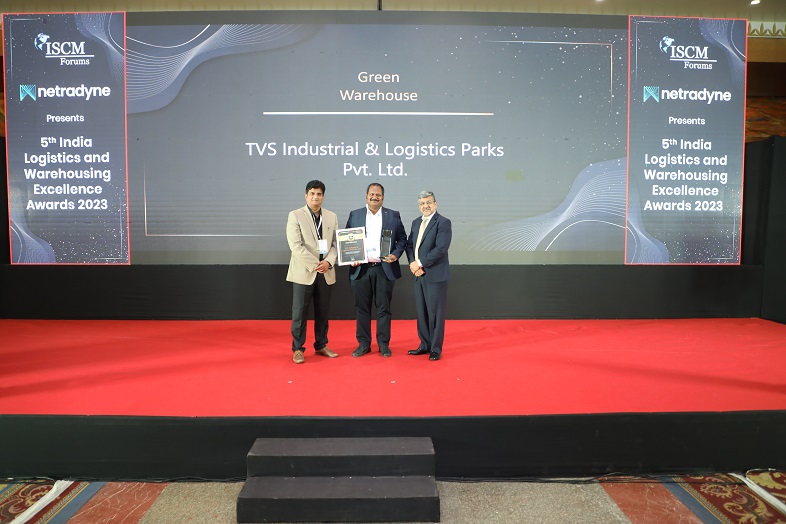 Mumbai, 18th May 2023: TVS Industrial & Logistics Parks (TVS ILP) is proud to announce that it has won the Best Green Warehouse Award at the 5th India Logistics & Warehousing Excellence Awards 2023 organized by ISCM. Being the pioneers in the warehousing and logistics industry, this recognition highlights TVS ILP's commitment to sustainability and green initiatives at large.
The India Logistics Strategy Summit (ILSS) is a premier event that brings together leaders from the 3PL, freight forwarding, warehousing, industrial spaces, Material Handling Equipment (MHE), and technology providers and users of these services to exchange ideas and evaluate their strategies for creating a sustainable, reliable, resilient and responsive logistics ecosystem.
The company's remarkable success can be attributed to a comprehensive range of initiatives, including the installation of Sewage Treatment Plants (STPs) for 100% water recycling in 90% of its facilities, retrofitting facilities with water-saving technologies, implementing daylight harvesting and LED lighting, planting over 1000 trees, constructing rainwater harvesting structures, and forming strategic partnerships with waste recycling agencies. These collective efforts have yielded impressive results, with our green warehouses achieving remarkable energy savings of 45%, fresh-water savings of 50%, and an outstanding 67% reduction in embodied energy when compared to conventional structures.
"We are delighted to receive this recognition and proud to be contributing towards a sustainable future," said Mr. Manikandan Ramachandran, COO of TVS ILP. He added, "This award reflects our commitment to responsible growth keeping sustainability at the heart of our operations. We would like to thank all our employees, customers and partners who have helped us achieve this feat as we continue on our journey of building sustainable warehouses and adopt a resource-efficient path through certified green buildings."
By combining innovation, technology, and a strong focus on sustainability, TVS ILP is setting new benchmarks in the industry and spearheading a green revolution that sets the stage for a brighter and greener future.