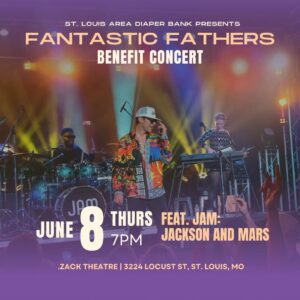 Local nonprofit to raise funds for its diaper program.
(St. Louis, Mo., April 26, 2023) — The St. Louis Area Diaper Bank will host its second annual Fantastic Father's Benefit Concert on Thurs., June 8 from 7 to 9:30 p.m. The fundraiser will be held at the Zack Theater located at 3224 Locust St. Proceeds will benefit the nonprofit's diaper program.
The concert will feature JAM: Jackson & MARS, a high-energy live band and production that showcases Michael Jackson and Bruno Mars. The band includes a Michael Jackson impersonator plus Bruno Mars' look-alike who will perform 40 songs spanning 40 years. The evening includes drinks, hors d'oeuvres, a silent auction and raffle,
This year the St. Louis Area Diaper Bank – through a network of 70 community organizations, educational and health partners serving low-income families – will distribute 4.1 million diapers to more than 70,000 families in the St. Louis region.
Founded in 2014, the St. Louis Area Diaper Bank provides diaper and period supply access to the region's low-income families, as well as raises community awareness about the causes and consequences of diaper need and period poverty. The nonprofit is a member of the National Diaper Bank Network and its sister organization Alliance for Period Supplies, a nationwide nonprofit dedicated to eliminating diaper need and "period poverty" in America. The period supply program ensures access to menstrual hygiene products, which allows full participation in daily life with dignity.
The period supply program distributes period supplies through community partners and advocates for the elimination of "period poverty". This year the period program will distribute 1.1 million period products. Two-thirds of low-income women in St. Louis cannot afford menstrual hygiene products, with 46% of low-income women having to choose between food and period supplies.
General admission tickets are $65 per person, and the VIP experience – which begins at 6 p.m. and includes a pre-show open bar and hors d'oeuvres – is $115 per person. For more information about the fundraiser and sponsorship opportunities, call (314) 624-0888 or visit their website.