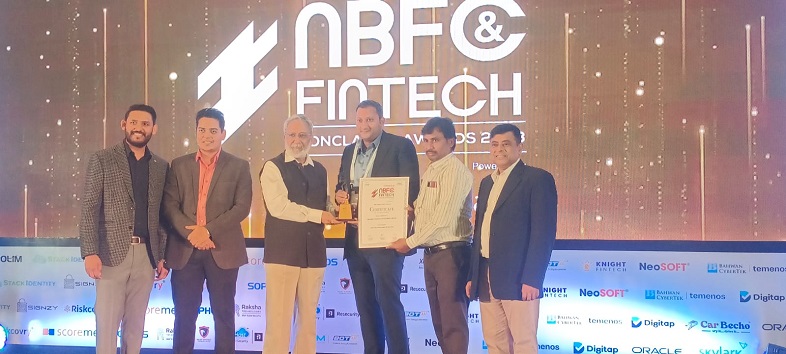 Chennai, August 19, 2023: Maximal Finance, a trailblazing force in the realm of financial inclusion, has been distinguished with the coveted title of the "Most Influential NBFC of the Year" at the esteemed 15th NBFC & Fintech Award 2023. This prestigious accolade underscores Maximal Finance's commitment to reshaping the financial landscape and propelling inclusive economic growth through innovative approaches.
The 15th edition of the NBFCs & Fintech Conclave and Awards explored the dynamic intersections of technology, from current advancements to future possibilities, and their profound impact. Focused discussions centered around the evolving landscape of Loan Management Software, the persistent challenge of Cyber Crimes, and the transformative role of Digital Payments in fostering inclusivity within organizations and society at large. Eminent experts from the NBFC and IT sectors engaged in thought-provoking dialogues, sharing their invaluable insights.
"Receiving the 'Most Influential NBFC of the Year' award at the 15th NBFC & Fintech Award is a moment of immense pride and humility for us," commented Mr. R. Vignesh, CEO of Maximal Finance. He further added, "This recognition underscores the distinctiveness of our approach in driving financial inclusion through the strategic application of technology. We believe in ensuring that every individual has access to and benefits from the financial ecosystem, and we remain dedicated to innovation and leadership in this pursuit."
Maximal Finance's vision seamlessly aligns with the Government's Atmanirbhar Bharat initiative, aimed at fostering self-reliance and financial empowerment among entrepreneurs.
Distinguished for pioneering a fully digitized loan disbursement and collection process, Maximal Finance sets industry benchmarks. This comprehensive system encompasses every aspect, from client prospecting and credit assessment to loan approval and repayment collection. By integrating cutting-edge technologies, Maximal Finance offers customers a seamless and secure experience, exemplifying the highest standards of efficiency.
Maximal Finance's ambition is to redefine the existing model of financial partnerships within the MSME segment, playing an integral role in propelling the nation towards achieving its ambitious $5 trillion economy goal by 2024.