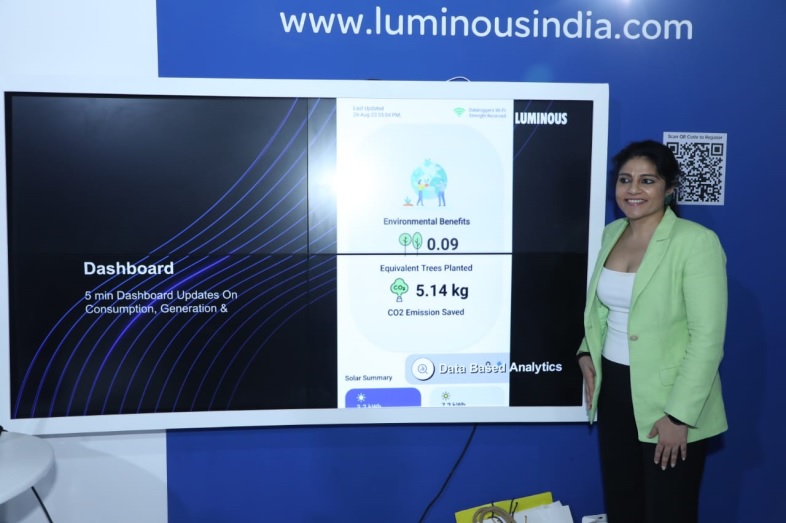 New Delhi, 5th October 2023: Luminous Power Technologies, a leading provider of energy solutions, today launched its cutting-edge energy management solution, the ConnectX App. The App aims to provide Luminous' customers a powerful tool for managing and monitoring their Luminous solar product range, specifically inverters and associated systems. The App was launched at the Renewable Energy India Expo held at the India Expo Centre, Greater Noida where the company also showcased its widest range of roof-top solar solutions.
Packed with a suite of rich features, this innovative app is designed to empower consumers by providing them with real-time monitoring and data on energy consumption, solar energy generation, and inverter performance. In doing so, the application enables users to make informed decisions about their energy usage, fostering sustainable energy practices while reducing reliance on traditional grid sources.

According to Preeti Bajaj, CEO & MD, Luminous Power Technologies, "At Luminous, we envision a future where intelligent, interconnected solutions empower individuals and businesses through enhanced energy management. The user-friendly design, and features like real-time monitoring and data on energy consumption, make this App the perfect solution leading to optimised solar system performance. We are committed to simplifying energy management for the people and lead the way in smart energy solutions, with a strong focus on innovation and sustainability,"
With the launch, Luminous Power Technologies aims to reach consumers across residential, commercial, and industrial sectors. The app's versatility is designed to cater to a diverse consumer base and ensure that advanced energy management is accessible to users in various markets and sectors. The ConnectX App is compatible with Luminous' range of Solar products, including Solarverter Pro, Hybrid, PCU, and NXI GTI Series. The users will benefit from access to real-time data and insights, informing them about power generation, energy usage patterns, as well as performance and health of the inverter through notifications and update.
The Luminous ConnectX App offers a user-friendly design, ensuring a smooth experience. It features an easy login process, effortless Wi-Fi configuration, seamless data synchronization, and intuitive visualization of energy flow. Detailed device information is easily accessible, and users can connect with Luminous through social media platforms and accessible assistance and support services. With a visually appealing colour scheme and both dark and light modes, the app caters to users with varying levels of technical expertise. Its intuitive interface ensures effortless navigation and access to essential information.
The Luminous ConnectX App sets itself apart by offering a comprehensive solution for energy management, combining real-time data visualization, historical analysis, insights, and customer support. It aims to establish a new benchmark for user-friendly and feature-rich energy management tools, some of which are as follows:
• Real-Time Monitoring: Users can immerse themselves in real-time energy flow with intuitive animations, gaining immediate insights into solar energy generation, consumption, and storage (battery back-up). Users can get access to comprehensive details about their inverter, battery, and solar system.
• Financial benefits: Users can make financially informed decisions with ROI calculations and track energy savings over time. The app empowers users with insights into energy consumption and solar power performance, enabling optimized energy usage. This can potentially reduce utility costs, improve system efficiency, and maximize solar energy utilization.
• Historical Trends: Analyse past data on solar generation, home consumption, and power cuts to fine-tune your energy strategy.
• Environmental Contributions: Stay connected to the green revolution with insights into your environmental contributions.
• Energy Independence: Reduce your dependence on traditional grid energy sources and minimize your carbon footprint.
• Customization: Enjoy a personalized experience with the option to switch between light and dark mode themes.
Currently available for Android users, Luminous is actively working towards developing an iOS-compatible version that is expected to be available by the end of this year. Future updates will include support for non-solar products and upcoming offerings from Luminous. The users can leverage FOTA or Firmware-over-the-Air whenever a newer Firmware version is available and upgrade the app whenever a newer version is available at play store. While users can currently monitor inverter and connected device data, control over connected devices will be made possible in future versions.
The consumers can download the Luminous ConnectX App from the Google Play Store, tailored for Android devices. The setup process involves creating an account, entering the unique inverter serial number, and configuring the IoT device for real-time data access.