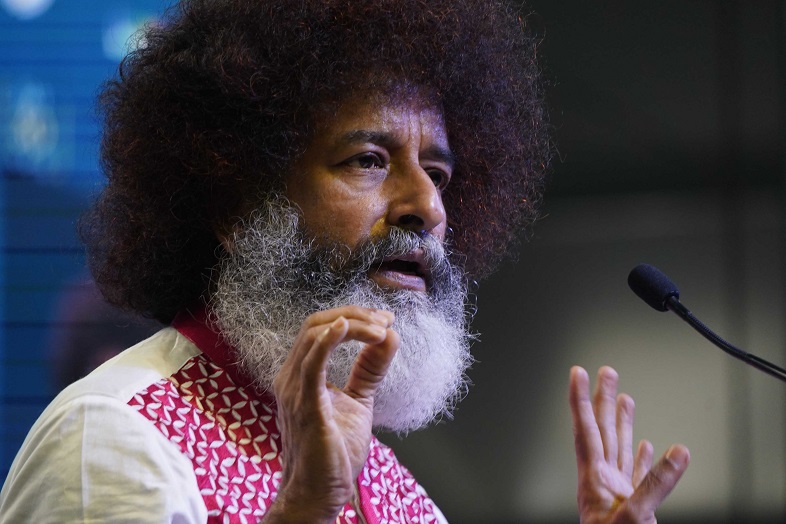 October 02, 2023…….In a modern, mechanical, fast world, all the relationship labels–mother, father, sister, brother, wife, husband……….all died. The only label that counts now is Are you a friend or not said, internationally renowned spiritual guru Mahatriya Ra while addressing a gathering of 1500 people immediately after the inauguration of Umang 2.0, South India's biggest jewellery and lifestyle products expo on Saturday at Hitex in Madhapur in the city.
Mahatriya Ra spoke on a very interesting topic 'This & That".
Mahatria is a great storyteller. His powerful one-liner messages are so powerful that they cause a transformation in so many lives. Some of the most popular and inspiring messages of Mahātria are: What is, is; What is not, is not; There is no way to happiness, happiness is the way; The power of a man is in the power of his mind; An hour a day of investment in health, 23 hours of freedom to enjoy life; There are three essential relationships – relationship with self, relationship with others and relationship with Thy; Energy + Intelligent Efforts + Faith in the Energy = Miraculous possibilities and many more like these.
Jain International Trade Organisation–JITO Hyderabad, which is organising a three-day expo Umang 2.0 invited Mahatriya Ra to address them on matters around family and relationships.
Mahatriya Ra said, If you want to have a great family, you need to create a family of friendship. What counts the most in the family today is an understanding nature of the family member. Do you know how relationships are in modern societies of the world? he asked his audience.
Brother meets sister only Raksha Bandhan. And of the year, they live like strangers. Our relationships are day-oriented –Mother's Day, Father's Day, and Parent's Day. Our mother ends up eating dinner all alone in the house after her day-long work, while the family members are busy on mobile, laptops. Nobody has time for the mother or parents. A brother who didn't have time to speak to his brother for the past couple of days but he keeps talking about the India-Canada relationship. We don't know what is happening in our own marriage, but we keep talking about newly wedded Parineeti Chopra and Raghav Chadha and their marriage.
If you want to reunite a family, ask, is there respect still exists in that relationship? If respect is lost, there is no future in that relationship. You will get back that relationship if respect exists mutually. He gave an example of Lord Shriram and Bharath. Though they were separated, they were united because mutual respect still existed. Take the example of Mahabharata. Pandavas and Kauravas' relationship soured and there was no respect, so they never got united.
Nowadays, the family means only the wife and husband staying together and no one else. The world has become individualistic.
If you want to nurture good relationships you need to give quality time and keep deep communication. That is the only way to save the relationship, he said.
If families have to stay united, no matter what, a family must have to come together for at least one meal in a year. The next generation will forget what the relations are. Families must take time out for outings, and holidays once in a while. Invest time with the family. Family is a responsibility. Friendship is for pleasure. It is the family that stands by you when you are hospitalised. Friends only send emojis. They send speedy recovery messages on WhatsApp. But, it is the family that sleeps with you in the hospital.
When Lord Mahavir told this world about the message of Love, it was fine. But he was not the first to talk about loving people. But he was the only one who told us to love everything around life.
A true Jain doesn't shy away from responsibilities. If a Jain shies away from responsibilities, he is not the true Jain. And the one who by birth may not be a Jain, but takes the responsibility, is living the life of Jain, said Mahatriya Ra.
The best way to a holistic life is not to make your evening the same and repetitive. Make every evening different from the rest of the evenings, he told the audience
Stressing upon various points related to the happy family and other related issues he gave several examples, which received thunderous applause from time to time
Speaking about another state of affairs, Mahatriya said, the plantation is a new buzzword now. Plantation doesn't solve the problem. Growing those plants actually solves it. Even if three plants are planted and if they are nurtured well into trees makes much more difference he said
Gratitude is the way to a happy life. Grateful heart is always happy, he added.
Speaking about how money spoils relationships, he said financial surplus in a good human being will build the world and in a bad person destroys the world. A Rs 100 crore in the hands of Osama Bin Laden would have destroyed another equally tall building. At the same time, the same amount in a good person's hand would have saved many lives.
His sixty-plus minutes of talk was heard with rapt attention. Towards the end, he received a standing ovation.
Many Jain Community members and JITO Office bearers were among the audience at the talk session.