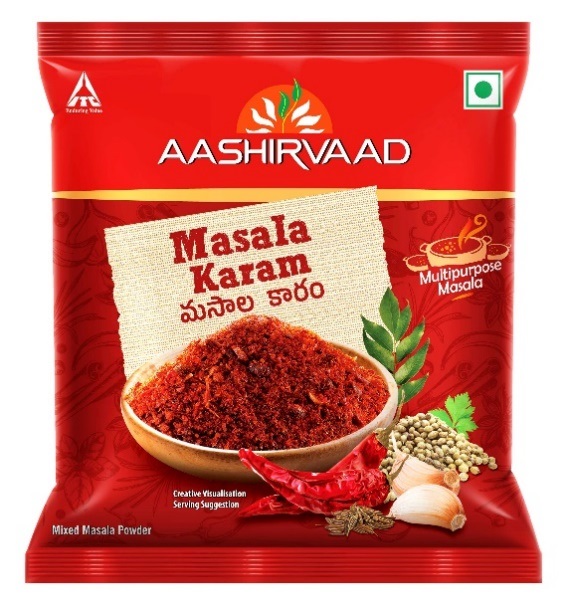 Hyderabad, November 7th 2023: Aashirvaad Spices, one of the leading brands in the spices category in Andhra Pradesh and Telangana regions, has introduced its latest offering, Aashirvaad Masala Karam, a versatile masala blend set to redefine flavour and convenience in every kitchen. This quintessential Andhra spice blend is an exceptional fusion of traditional spices that bridges the gap between heritage and modernity. Masala Karam promises to elevate the flavour and taste of meals while preserving the taste of homemade food.
Drawing inspiration from the heart of Andhra's culinary heritage and the timeless tradition of creating 'Koora Karam' in Andhra households, ITC Aashirvaad Spices has added new life to Masala Karam, catering to the demands of today's kitchens. Aashirvaad Masala Karam is a unique blend of traditional spices which includes chilli, garlic, cumin, coriander, curry leaves, and has been ethically sourced from the farmers in the region.
Commenting on the launch, Mr. Piyush Mishra, Business Head, Spices, ITC Ltd., "At Aashirvaad Spices, we recognize that preserving culinary heritage extends beyond flavours; it encompasses tradition, nostalgia, and convenience in the kitchen. Our unique new offering, Aashirvaad Masala Karam, aims to align consumer preferences with our carefully crafted blend. We hope that each time our consumers savour the delightful taste of 'Aashirvaad Masala Karam' in their meals, they are going to experience more than just a spice blend and will be able to relish the essence of Telugu cuisine, reconnecting with their heritage, and creating unforgettable moments with loved ones."
The product is readily available at in retail outlets of and E-commerce in Andhra Pradesh and Telangana in convenient pack sizes 50g and 200g, priced at Rs 37.5 and Rs 150, respectively.